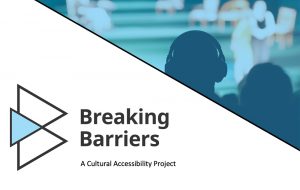 Breaking Barriers: A Cultural Accessibility Project is a partnership between Art Access and the Utah Division of Arts & Museums to provide disability accessibility training and mentorship to our state's cultural institutions. Funded in part by the Katherine W. & Ezekiel R. Dumke Foundation, Breaking Barriers will consist of training workshops for cultural organizations. Workshop content will focus on accessibility needs for people with the following disabilities:
Deaf/Hard-of-Hearing/Deaf-Blind
Blind and Low Vision
Physical and Mobility
Neurodiverse and Sensory
Developmental
Learning
Organizational participants in the Breaking Barriers project will receive 12 hours of instruction provided by Art Access staff. Through this work, participants will develop accessibility plans that address how to make their physical sites and organizations more accessible to the disability community.

All training will take place virtually.
Cohort 5 
Tuesdays from 10:00 am - 12:00 pm
January 11, 2022
January 18, 2022
January 25, 2022
February 1, 2022
February 8, 2022
February 15, 2022
Cohort 6 
Tuesdays from 10:00 am - 12:00 pm
April 5, 2022
April 12, 2022
April 19, 2022
April 26, 2022
May 3, 2022
May 10, 2022
Cohort 7 
Tuesdays from 10:00 am - 12:00 pm