---
The Change Leader Program is a professional development course with an active network of course graduates. Participants attend a three-day immersive institute with instruction on assessing environments and the communication and facilitation skills necessary to implement change. Following the institute, Change Leaders practice these skills by completing a certification project. These certified Change Leaders form a network of leaders that share a common language, mentor each other, and convene through leadership circles and conferences.
---
Special event - Change Leader Book club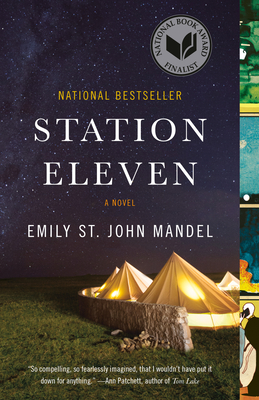 Join us to discuss the novel "Station Eleven" by Emily St. John Mandel. "Station Eleven" is a NEA Big Read and we love it because it includes ARTS and MUSEUMS in a post-apocalyptic environment.
Join us live in Salt Lake City or via the web on Friday, February 21st from 12:30pm-1:30pm. We have a panel of three amazing Change leaders who will discuss the book in relationship to the Change Leader tools and principles. We will be taking questions or comments from the audience.
Multiple copies of the book are available at Utah's Libraries.
Happy Reading!
---
The Change Leader Institute is a professional development course that addresses leadership issues in relation to leading change. Our goal is to better equip arts and cultural leaders to deal with environmental and organizational change, and also to create a statewide mentoring network in the arts and cultural community.
You can access the Institute Application here.
**Please note that there is currently a wait-list for the Change Leader Institute. Submit an application to be placed on the wait-list.
---
Creative Communities Institute
April 2-4, 2020
Location: Thanksgiving Point
Lehi, Utah
For Residents of Tooele County only
Application coming soon!
Spring Institute
June 15-17, 2020
Location: Homestead Resort Midway, UT
Fall Institute
November 11-13, 2020
Location: Red Cliffs Lodge
Moab, UT
---
To complete their training, Change Leaders design a project, applying the concepts they learned in the Institute. After examining their environment to identify a need, they plan a response, engage others, identify resources, negotiate, honor resistance, adjust plans as necessary and implement change.  Each certification project is unique.
"The Change Leader program taught me incredible skills that i could use to impact my community in so many ways."
---
---
Conferences for certified Change Leaders are held twice a year. Conferences provide training from high quality facilitators and a chance to network with members of the Change Leader network. Conferences also showcase certifying Change Leaders as they present their certification projects.
---
Spring Conference

Wednesday, May 6, 2020
Location – Utah Cultural Celebration Center
West Valley City, UT
INFORMATION COMING SOON
---
---
Leadership Circles are regional gathering held for certified Change Leaders. As we plan these meetings we reach out to Change Leaders and invite them to attend. All Change Leaders are welcome to attend any Leadership Circle. 

---
---
Random Acts of Art Scholarship
Change Leader Random Acts of Art Scholarships encourage creative engagement in communities, spearheaded by Change Leaders. RAAs can range from art projects to targeted community-based activities. This program provides scholarships for the following purposes:
Support local civic engagement using arts as a medium and/or artists as active participants.
Illustrate the impact of the cultural community in meeting social or community needs/opportunities through small projects that are not part of regular programming.
Assist Change Leaders in building value and increasing connections within their respective communities.
Strengthen and raise awareness of the cultural community and the Change Leader network through media and public relations.
Click HERE to view the guidelines.
Final Reports are now online! Access them HERE.
To log in to the online application for this scholarship, Change Leaders can visit uamgrants.utah.gov.
Please note: The online grants system works best if viewed in Chrome or Firefox web browsers.
---
---

---