On October 19, 2018, the Utah Division of Arts & Museums celebrated 40 years in its main offices, located in the historic Glendinning Home at 617 East South Temple in Salt Lake City. It was an exciting day, but first, a little history.
The National Endowment for the Arts was established in 1965. The Utah Art Institute and its advisory board had been in place for 66 years, so this legislation simply changed the institute's name to the Utah State Division of Fine Arts, and Governor Calvin Rampton hired Wilburn West as the first director. Office space was found in the Carriage House behind the Governor's Mansion in downtown Salt Lake City. West retired after six years, the board selected Ruth Draper as director in 1974, and the Utah State Division of Fine Arts voted to call itself the Utah Arts Council.
In 1975, Draper was informed that the Glendinning Home next door to the Governor's Mansion was set to be demolished for a condominium project. The building had been built in 1882 by mining engineer John W. Epley, who sold it to James Glendinning in 1884. Glendinning had moved to Salt Lake City from Scotland in 1882, become a partner in a hardware company, and helped found the Salt Lake Chamber of Commerce. He served as Salt Lake City's tenth mayor from 1894 to 1898.
The Glendinning Home was built in the Picturesque architectural style of the late 19th century, which featured irregular composition and was associated with such styles as Gothic Revival and Italianate. The building changed hands many times over the years. By 1966, it was a dental clinic and had endured numerous additions and alterations. Through Ruth Draper's efforts, the building was purchased by the state of Utah and renovated to recapture its former glory. The Utah Arts Council took up residence in 1979. In 2006, the state's Office of Museum Services merged with the Utah Arts Council, creating the Utah Division of Arts & Museums.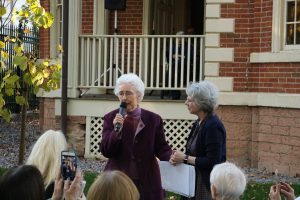 The 40th anniversary celebration was a festive affair, including an open house, hands-on arts activities, and a food truck. At 5 p.m., Draper and many of her colleagues and friends gathered in front of the home for the dedication of a red bud tree, along with a plaque bearing a message honoring the former director for her foresight and dedication. The festivities continued into the evening with live music by M. Horton Smith and Marcus Bently for the monthly Salt Lake Gallery Stroll in the Glendinning's Alice Gallery.